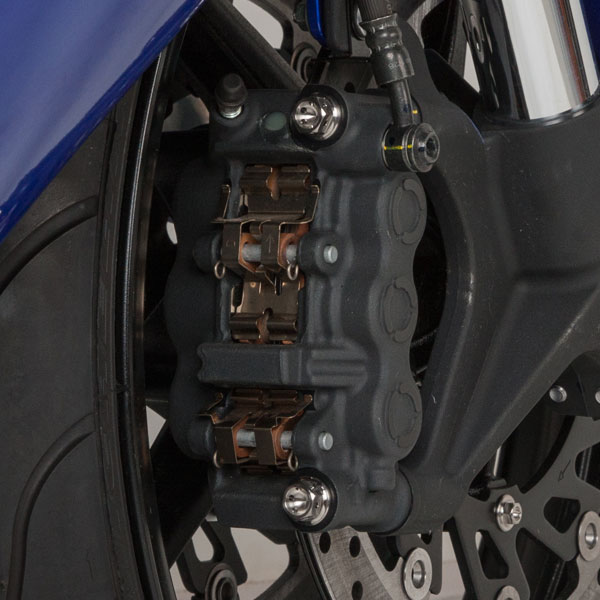 Z-Titanium CALIPER MOUNT BOLT
SPECIFICATIONS:
- Light weight titanium caliper mount bolt kit for sport bikes.
- Bolt size is compact design for light weight.
- Can be used for Brembo brake calipers.
- Wiring holes on the bolt to meet racing regulations.
- Comes with 2 bolts for rear brake calipers. 4 bolts for front radial brake calipers.
Caliper Mount Bolt
type
Part number
Size(mm)
qty
d
S
Dc
K
b
L
brembo Rear Caliper
Racing M7×20 P=1.0
ZT33-1072
M7 P=1.0
10
14
6.8
18
20
2
brembo Rear Caliper
Street  M8×20 P=1.25
ZT33-1082
M8 P=1.25
10
14
6.8
18
20
2
Radial Mout
M10x50 P=1.25
ZT33-1504
M10 P=1.25
12
17
8.2
26
50
4
Radial Mout
M10x55 P=1.25
ZT33-1554
M10 P=1.25
12
17
8.2
26
55
4
Radial Mout
M10x60 P=1.25
ZT33-1604
M10 P=1.25
12
17
8.2
26
60
4
Radial Mout
M10x65 P=1.25
ZT33-1654
M10 P=1.25
12
17
8.2
26
65
4
Radial Mout
M10x70 P=1.25
ZT33-1704
M10 P=1.25
12
17
8.2
26
70
4
Radial Mout
M10x75 P=1.25
ZT33-1754
M10 P=1.25
12
17
8.2
26
75
4